Madame Tussauds Shanghai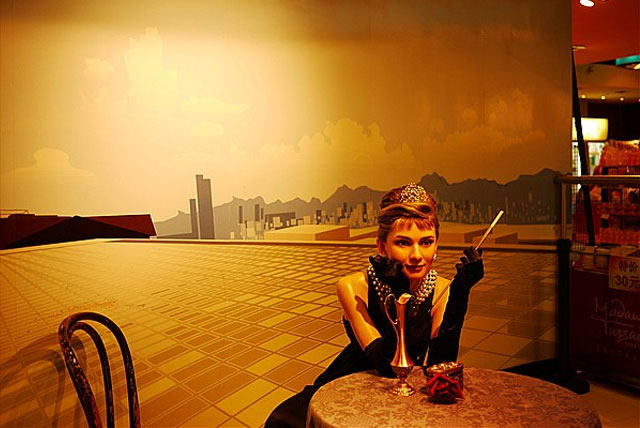 Introduction
The Madame Tussaud's Wax Museum is renowned for numerous vivid wax figures for world famous stars and celebrities, proving chances for ordinary people to get close to the notables. It is the wax museum with highest level in the world; and its operating company, Madame Tussauds group now has become the No.1 entertainment organization. Today, the museum has branches in Amsterdam, New York, Hong Kong, Las Vegas and Shanghai (the one opened in 2006).
History
Marie Tussaud, was born as Anna Maria Grosholtz in 1761 in Strasbourg, France. Her mother worked as a housekeeper for Dr. Philippe Curtius in Bern, Switzerland, who was a physician skilled in wax modelling. Curtius taught Tussaud the art of wax modelling.Tussaud created her first wax figure, of Voltaire, in 1777.Other famous people she modelled at that time include Jean-Jacques Rousseau and Benjamin Franklin.Following the doctor's death in 1794, she inherited his vast collection of wax models and spent the next 33 years travelling around Europe. Her marriage to Fran?ois Tussaud in 1795 lent a new name to the show: Madame Tussaud's. In 1802, she went to London having accepted an invitation from Paul Philidor, a magic lantern and phantasmagoria pioneer, to exhibit her work alongside his show at the Lyceum Theatre, London.From 1831 she took a series of short leases on the upper floor of "Baker Street Bazaar" (on the west side of Baker Street between Dorset Street and King Street),[5] which later featured in the Druce-Portland case sequence of trials of 1898-1907. This became Tussaud's first permanent home in 1836.By 1835 Marie had settled down in Baker Street, London, and opened a museum.
One of the main attractions of her museum was the Chamber of Horrors.The name is often credited to a contributor to Punch in 1845, but Marie appears to have originated it herself, using it in advertising as early as 1843.Other famous people were added to the exhibition, including Horatio Nelson, and Sir Walter Scott. Some of the sculptures done by Marie Tussaud herself still exist. The gallery originally contained some 400 different figures, but fire damage in 1925, coupled with German bombs in 1941, has rendered most of these older models defunct.In 1842, she made a self portrait which is now on display at the entrance of her museum. She died in her sleep on 15 April 1850.

The new exhibition galleries were opened on 14 July 1884 and were a great success.[8] However, the building costs, falling so soon after buying out his cousin Louisa's half share in the business in 1881, meant the business was under-funded.Edward White, an artist dismissed by the new owners to save money, allegedly sent a parcel bomb to John Theodore Tussaud in June 1889 in revenge.
Madame Tussaud's wax museum has now grown to become a major tourist attraction in London, incorporating (until 2010) the London Planetarium in its west wing. It has expanded and will expand with branches in Amsterdam, Bangkok, Berlin, Blackpool, Hollywood, Hong Kong, Las Vegas, New York City, Shanghai, Sydney, Vienna and Washington, D.C. Today's wax figures at Tussauds include historical and royal figures, film stars, sports stars and famous murderers. Known as "Madame Tussauds" museums (no apostrophe), they are owned by a leisure company called Merlin Entertainments, following the acquisition of The Tussauds Group in May 2007.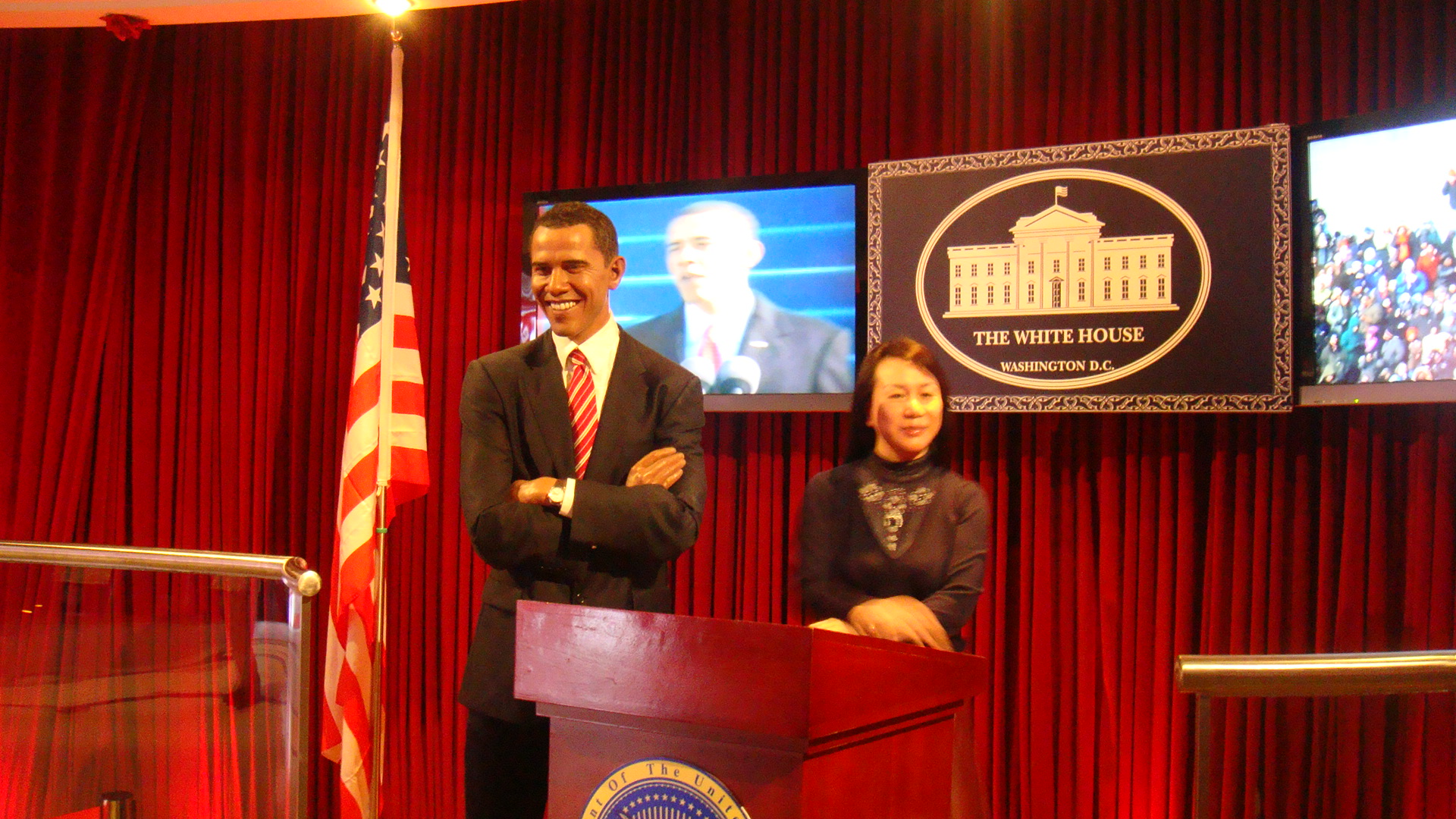 Features
There are totally seven thematic exhibition areas in the museum, namely, Behind the Scene, Shanghai Glamour, Historical Celebrities and Leaders, Cinema, Music, Sports and Speed. Entering the museum is just the feeling join into a colorful party with celebrities. Madame Tussauds Shanghai has become famous throughout the world for its lifelike wax figures. Now, there are nearly 80 wax figures, including Yao Ming, Liu Xiang, David Beckham, Tom Cruise, Michael Jordan and Bill Clinton. Each costs more than a million yuan, and they are all elaborately made in the London studio that has more than 200 years of wax making experience. The completed figures are exhibited in seven Theme Pavilions---Behind the Scenes, charm of Shanghai, Historic Celebrities, Movies, Music, Sports and Speed. Behind the Scenes will show you how a wax statue comes into being. In the charm of Shanghai Pavilion, visitors can have an authentic experience of life in old Shanghai. The Historic Celebrities Pavilion shows legendary figures from history. In addition, Madame Tussauds Shanghai will bring new wax figures into being from all walks of life.

With the use of new materials and advanced technology, Madame Tussauds Shanghai offers visitors a superior experience. For example, visitors may have interactive contact with some of the wax figures; they can negotiate with Bill Gates, take photos with Jackie Chan and Marilyn Monroe, sing songs with pop singers and compete with Guo Jingjing (a famous woman diver in China)

Shanghai Madame Tussaud's Wax Museum is the sixth one in the world; it is the place where common people can closely contact with their favorite celebrities. Different from other five one, the wax museum in Shanghai is featuring its adoption of the most advanced technological elements in the construction; and also the special experience area is a favorable chance to get involved into waxen making for visitors that it is rather exciting and pleasurable to make a specific fingerprint of one's own.
Information
Opening Time:10:00-22:00 (21:00 for last ticket)
Admission Fee: Adult CNY 150
Student CNY 110
Child beween 0.8m and 1.3m CNY 90
people above 65 years old(unsuited to the Scream Hall) CNY 90
Combo Tickets:Magic Combo A (2 adult + 1 photo with selected figure) CNY 310
Magic Combo B (2 adult + 1 guidebook) CNY 305
Family Combo (1 adult &1 child under 1.3m)CNY 190 (excludes Scream Hall)
Family Combo (2 adults & 1 child under 1.3m) CNY 310 (excludes Scream Hall)
Transportation
Subway routes: Take Subway Line 1, Line 2 and Line 8, get off at People's Square Station. Leave from Exit 7 and you will see the New World Building.Bus routes: Take bus 18, 20, 37, 46, 167, 518, 537, 930 or 952 at Middle Xizang Road, East Beijing Road or People's Square. Find New World Building in 2-68 West Nanjing Road. The wax museum is on the 10th floor.
Address: On the 10th floor of the New World Emporium ,No.2-68 Nanjing West Road, next to the People's Square, city center of Shanghai.