Xinchang Ancient Town
Introdution of Xinchang Town
Located in Shanghai's Pudong District, Xinchang Ancient Town is a small water town with more than 800 years history. In ancient times, it was a prosperous salt market. Today, there are still a large number of Ming and Qing dynasty structures. Set roughly 40 kilometers from central Shanghai, Xinchang Ancient Town is quieter and less sophisticated than other ancient towns in Shanghai. Fans of the film "Lust Caution" will recognize the town as the setting for many of the film's outdoor scenes. Lots of visitors come to Xinchang Ancient Town to feel the plain and leisurely life of the local residents, and to taste the heavy sense of history. It is not a commercial town, you can calm down yourself and enjoy a good time when you walk around the town.
History of Xinchang Ancient Town
More than 55 percent of the architecture from the Ming (1368-1644) and Qing (1644-1911) dynasties and the era of the Republic of China (1912-1949) have been preserved, making Xinchang the only comparatively complete historical town in Pudong, Shanghai. Rivers run through the town, and there are finely carved stone-arch bridges and houses built near streams, as well as a highly-built stone revetment, saddle-shaped water bridge and monumental "stalagmite lane" archway built back in 1986.


What to see in Xinchang Ancient Town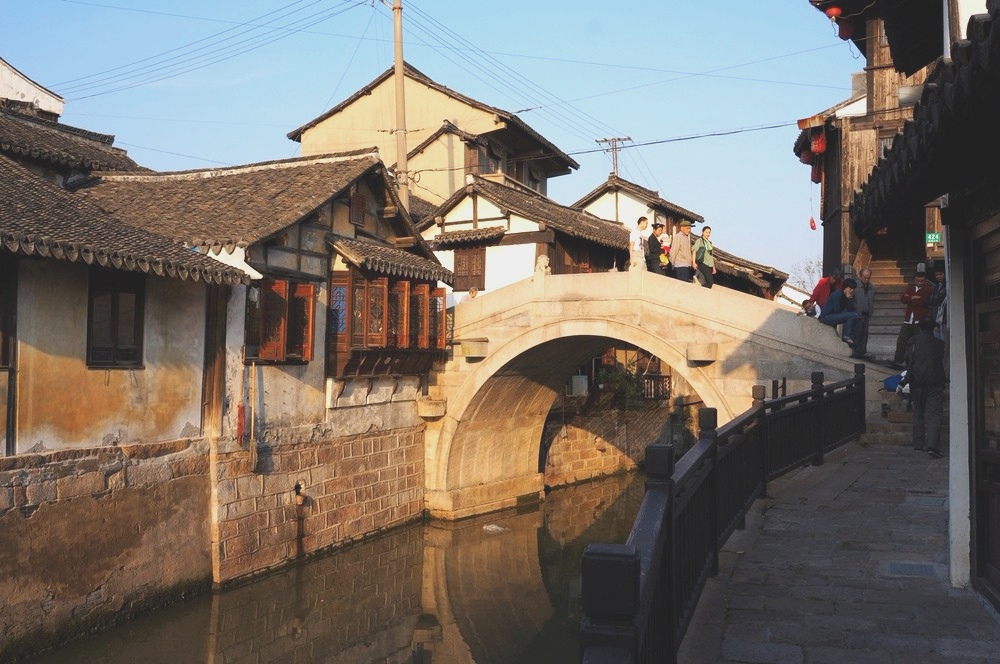 Ming and Qing Dynasty houses
There are more than 100 different sizes of ancient Ming and Qing Dynasty houses, white walls, Daiwa, carved doors and windows have been saved. Existing stone revetments are more than 6000 meters, of which about 1500 meters was built before the Republic, its oldest can be dating back to the Yuan Dynasty, has 800 years of history. The saddle-shaped waters bridge (more than 20), which Called as the "home of the heritage" by heritage experts, has the classical architectural style, for example, the Hidden Eight Imortals carving, the Wishful Graphics carving and so on, very beautiful and delicated, rich of typical Jiangnan water town flavor.

Hongqiao Old Street
It is a folk art street in Xinchang Ancient Town, with folk art gallery, painting workshops, cloth workshops, pottery art shops on both sides. In addition, the "Colorful China, Happy Experience" event is held all year round, when you can enjoy and experience the charm of Chinese folk culture and art, and bring home the folk art works you personally create.


Basic Information
Location: Xinchang Town, Pudong New District
Entrance Fee: Free
Opening hours: whole day
How to get there from Shanghai downtwon: 1) You can take Shanghai city metro Line 16 to Xinchang Metro Station, then take a taxi or city bus that goes to Xinchang Ancient Town for 1RMB. 2) Take a taxi from your hotel directly