Indroduction of Shanghai nightlife
Shanghai has been a city abundant in night life since 1930s. At that time night life was upper-class people's privilege. Only the rich merchants and officials can go to night clubs to enjoy night life. Lots of rickshaws were waiting outside the clubs. Once performances in the clubs ended the owners of the rickshaws began to rush to their goals - the rich people who just ended their night activities. Nowadays, almost every young adult can enjoy night life. They go to bars, parks or cinemas with their friends or lovers. In a word, night life has become an indispensable part to people who live in Shanghai.
Some favorable nightlife paradise in shanghai

The scenery at night has to be seen and the Bund is a must. The ornate classical and modern buildings take on a new and exciting look as they are lit up by an abundance of colored lights. Looking across the Huangpu River to the Oriental Pearl TV Tower and Jinmao Tower is a magical sight. A night-time Huangpu River cruise presents a wonderful opportunity to appreciate the night life on the Bund. 30 or so boats carry tourists;These include deluxe boats, ancient dragon boats of Ming and Qing styles, boats of Shikumen style of old Shanghai, Pirate Boat, etc. The boat fare is CNY 68. Whatever kind of boat you take, the view to be seen here at night will be sure to live on in your memory for years to come.
Tea House in shanghai
The Old Teahouse is situated in the heart of historic Shanghai, across the entrance to the Yuyuan Gardens. This is a very popular part of town, and is teeming with people. The Teahouse is a welcome respite for many after the many hours of beating the payment. And it offers nice views to boot.
A visit to the Old Teahouse is highly recommended. And given its central location, virtually unavoidable. Shanghai will almost certainly be the highlight of your trip to China. And the Old Teahouse will figure prominently in the pleasant memories this amazing city is likely to bestow.
Nightclubs and bars
Nightclubs and bars are blooming and can be found everywhere. Xin Tian Di offers the most choice and favorable appreciation. It collects international galleries, fashion shops, themed restaurants, coffee house and bars. The arrival of more and more boutiques, designer shops and luxury goods stores continually adds to the enjoyment of Xin Tian Di.
Xin Tian Di
Located in the central area of Shanghai City, Xintiandi is an affluent car-free shopping, eating and entertainment district of Shanghai, China. Xintiandi highlights an area of reconstituted traditional stone gate houses on narrow alleys, some adjoining houses which now serve as book stores, cafes and restaurants, and shopping malls. When you walk into this area, you will get the taste both of Shanghai in the 1920's and the sonic modern lifestyle of urbanites of the 21st century.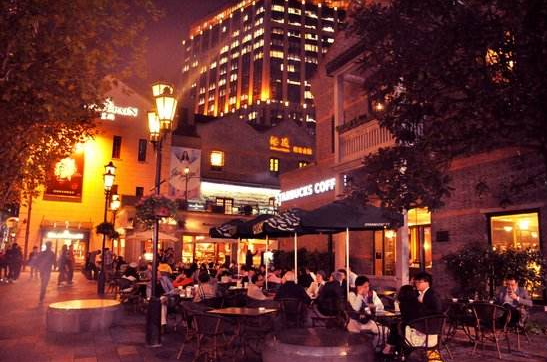 Xin Tian Di
Nanjing Road
Labeled as the No.1 Business Street in China, Nanjing Road of Shanghai is one of the most famed and bustling streets in the world equally famous as the Fifth Avenue in New York and Champs Elysees in Paris. A miniature of the history and culture of Shanghai, Nanjing Road is a striving commercial hub, a field of fortune and a shopping paradise that houses China's key commercial enterprises such as the Shanghai's No.1 Department Store, Yong'an Commercial Building, as well as old honored shops like Old Fengxiang Gold & Jewelry Shop, Maochang Optical Shop and Shanghai No.1 Medicine Shop. Has long been China's golden mile, present Nanjing Road still has great glamour as a must metropolitan destination attracting thousands of people for sightseeing or shopping from all over the world.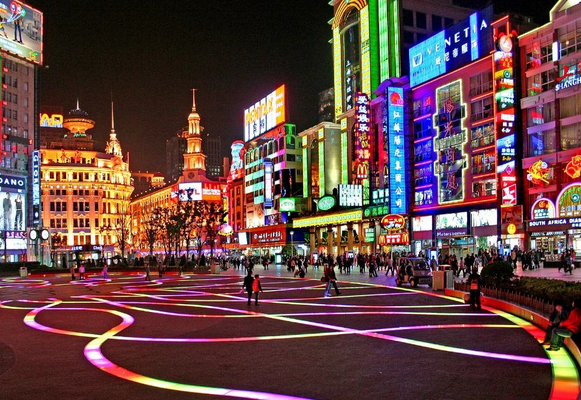 Nanjing Road
The Bund Night Scene
The Shanghai Bund has dozens of historical buildings, lining the Huangpu River, that once housed numerous banks and trading houses from the United Kingdom, France, US, Italy, Russia, Germany, Japan, the Netherlands and Belgium, as well as the consulates of Russia and Britain, a newspaper, the Shanghai Club and the Masonic Club.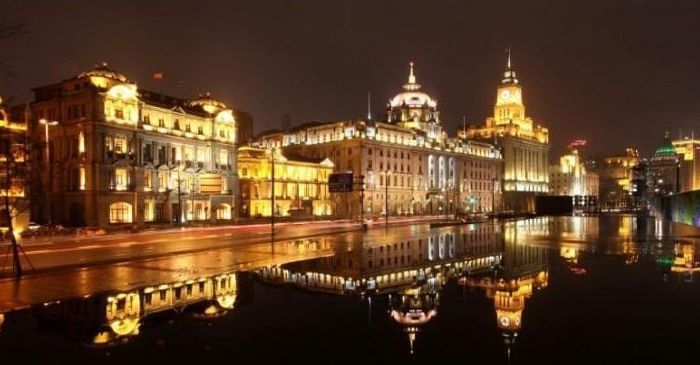 The Bund Night Scene
Fu Xing Park
A small park in the center of Shanghai. It is quite close to Xin Tian Di(???) and Middle Huai Hai Road(????). It is an ideal place to go when you are tired of shopping and need some fresh air.
This park was built in 1908 by French. At first it was called "French Park". A lot of the original buildings and tress have been well preserved, while some new elements have been added, such as the two statues for Marx and Engles.
In the evening, some bar you can select the next:
Fu Xing Park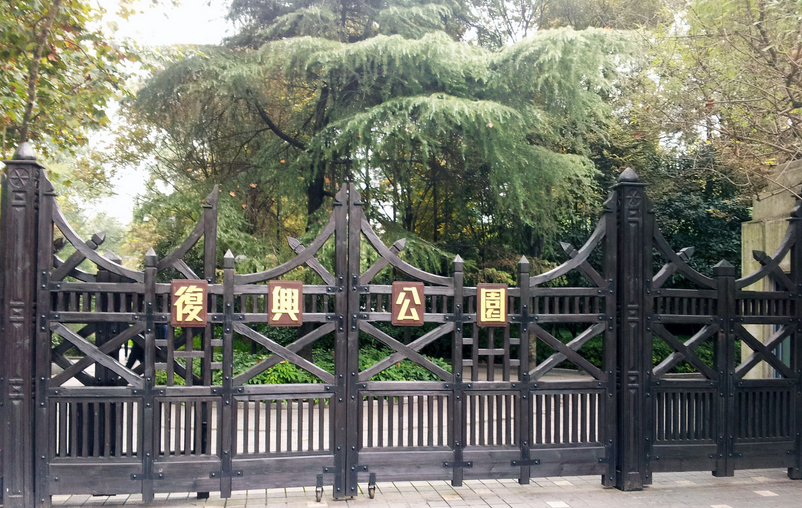 Fu Xing Park
Park 97is made up of Italianated Baci dining-room, Japannish Tokio Joe dining-room, and California club. It is regarded as the most beautiful bar in Shanghai by public. Under bland light, Park 97 like a petillant evening primrose opening its floweriness. Inside California Club is eyeful red, red high chair, red sofa, red cushion, as well as red light. The dance pool will put on brilliant and fad performance including famous Malaysia Daiya Kobyashi's.
Location: located at No.2, Haolan Road.
Barbarossa Lounge
Located in People's Park, the striking traditional Moroccan architecture of Barbarossa Lounge stands out. The whole building houses a three-floor restaurant and a stylish roof bar, the Barbarossa Lounge, overlooking the beautiful park and its surroundings. Possessing an ambience that is both lively and chilled out at the same time, Shanghai's beautiful people flock here, especially at weekends.
Opening Hours: Daily 11:00-late (Happy Hours 17:00-20:00daily)
Location: 231 Nanjing Road West, People's Park
Lost Heaven (The Bund branch)
Escape the crowds and head for the 3rd floor terrace bar of Lost Heaven on the Bund. Hardwood decks, trickling water features, delicate backlighting and green tropical plants are perfectly blended with designs and details from the upper Mekong. A space of good music, 28 signature cocktails and dramatic night views of Shanghai awaits you.
Add: No. 17, Yan'an Road (E.), Shanghai
Public transport: near Metro Line 8 Dashijie Station or Metro Line 1 People's Square Station
New Heights – Caribbean Night
Join this summer's hottest crowd at New Heights' Caribbean Night, celebrating the glittering summer spirit with tropical drinks, funky Latin beats and live DJ performance. A fabulous night of frolics, fun and delicious drinks. All Rum, Tequila and Cachaca based drinks buy one get one free, from 10pm till late.
Open: Wednesday from 10:00pm (Live DJ from 10:30)
Cloud 9 & Sky
Located at one of the highest points in the city on the 87th floor of the world's tallest hotel, Shanghai Grand Hyatt, Cloud 9 offers a lofty, surreal drinking experience with a commanding 360-degree view of the city below. Just one floor up from Cloud 9, on the 88th floor, is Sky Lounge, the world's highest bar which has been named by Newsweek magazine as one of 'The World's Great Gathering Places'.
Opening Hours: Mon-Thur 17:00-01:00, Fri 18:00-02:00, Sat 11:00-02:00, Sun 11:00-01:00
Location: Grand Hyatt, Jin Mao Tower, 88 Century Avenue, Pudong New Area
Club Bonbon
An award-winning club including 'Best Overall Club' by Readers Choice Awards for two consecutive years, Club Bon Bon has built a solid reputation over the years as a world-class venue with sizzling club nights and top international guest and house deejays. Home to one of the world's biggest clubbing brands, Godskitchen, it is known to be one of Asia's premier nightspots. Innovative in both design and offerings, this club is THE place to be seen in.
Opening Hours: Daily 21:00-late
Location: 1329/1331 Huaihaui Road, 2F Yun Hai Tower
Shanghai Acrobatics Show
No wonder near capacity crowds are drawn nightly to see the Shanghai Acrobatics Troupe. Circus acrobatics has been around in China for 2000 years and today troupes are reputed to be the best in the world.